I've been playing in bands since I was a teenager and I can trace just about everything that's good in my life back to music one way or another.
Royal Scene
2015 – Present
My most recent project is Royal Scene and you can find us on Apple Music, Spotify, and Bandcamp. We also masquerade as a Replacements tribute band called Bastards of Young 🙂
Twistin' Tarantulas
1999 – ???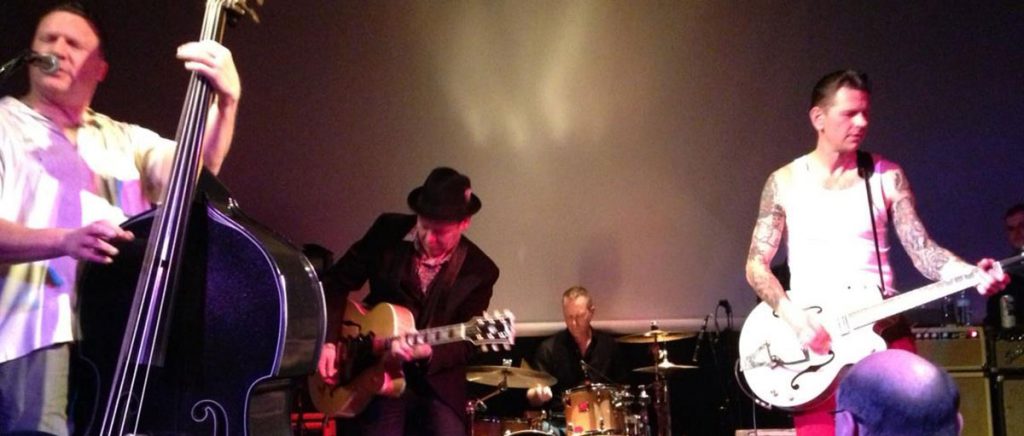 For many years I was the guitar player in the Detroit psychobilly combo Twistin' Tarantulas, playing 3-4 nights a week and touring extensively. I played on their third album, El Destroyo. You can find their music on iTunes, Spotify and elsewhere. I can still be seen sitting in with them from time to time.
The Lincolns UK
2005 – 2011
The Lincolns UK was a garage-rock band that was started by Jen Rizk, Mikey Brown and me. We were active in the 2000s and got the chance to play with lots of our favorite Detroit bands. Our music is on Bandcamp.
the dt's
1994-1998
I joined the dt's after Bad Oskar broke up and wrote, toured, and recorded with them until the band self-destructed in the late 90s. We did a brief reunion in 2013 and put up this facebook page. Although we only put out one CD, Widow of an All-American, while I was with them we had written and recorded two additional albums worth of material that I will one day put online somewhere. I was a huge fan of their first CD, Cinch. There isn't a lot of footage of us performing but after our singer Tom passed I dug up what I have and put up a dt's YouTube playlist here.
Dumpster Cowboys
1994-1998
The Dumpster Cowboys was a band that came together with three of my best friends in the world; Drew Howard, Jason Portier and John Mizga. We were all huge fans of country rock and americana (Neil Young/Crazy Horse, Son Volt, Wilco) but also punk and alternative bands (Replacements, Social Distortion) and we put them together. I played with Drew in Bad Oskar where he was the singer/songwriter/guitarist/mastermind. Jason I'd gone to highschool with and we'd played in a couple of bands together. He had a band called "6" at the time and was in The Lash and several other cool bands (Ingham County Regulars, Ryan Dilahe and the Miracle Men). We recorded with A.J. Dunning and were featured on a couple of compilation discs by Yikes Records but never released a proper album. Our songs are on Bandcamp.
Bad Oskar
1992-1994
Bad Oskar was a crushing heavy roots rock band from Lansing. I joined them as the bass player and we gigged and recorded while looking for a label. They had already had a big following and had gigged for a couple of years before I joined them. I was a huge fan and had actually auditioned as a second guitar player a couple of years prior but Drew was such a powerhouse that they really didn't need one. With the incomparable Ian Lee on drums, we were a power trio with a powerful sound and energy that eventually landed us an opening spot at the New Years Whiplash Bash in '93 at Cobo Hall opening for Ted Nugent, Damn Yankees and Jackal.